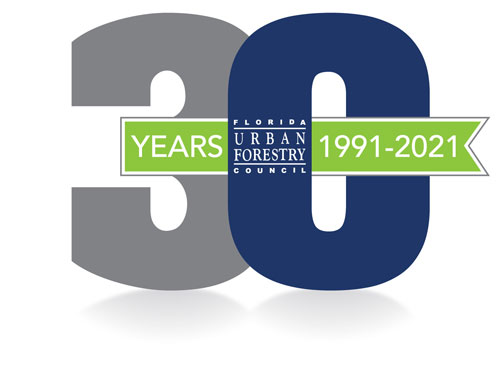 History
In 1990, a group of individuals, with the help of the Florida Division of Forestry's (now known as the Florida Forest Service) Jim Harrell, dreamed of an association that would plan, promote and protect the urban forest. These founding fathers met at Harry P. Leu Botanical Gardens in Orlando to begin an association called the Florida Urban Forestry Council. At this meeting, the Division of Forestry asked six individuals including Steve Graham, Andy Kittsley, Jeffrey Siegel, Richard Maxwell, and Dr. Ed Gilman, plus a representative of FNGA and the Florida Federation of Garden Clubs, to review a draft and finalize an initial set of by-laws. In addition, the group was asked to recommend an additional six individuals/organizations to serve on the first council.
One year later, on April 10, 1991, the Florida Urban Forestry Council was incorporated to act as a forum, resource, catalyst, liaison and advocate concerning urban forestry issues in the state of Florida. Initial operational funding for the Florida Urban Forestry Council was made possible by an "America the Beautiful" support grant provided through the U.S. Forest Service under the administration of [the first] President Bush.
The group had the vision to create an association that represented the stakeholders and caregivers of the urban forest – a perfect example of private–public partnerships. Membership on the Board of Directors consists of a city arborist, private arborist, utility forester, a representative from a tree advocacy group, the American Society of Landscape Architects/Florida Chapter, University of Florida IFAS Extension, the Florida Department of Transportation, the Florida Institute of Park Personnel, the Florida League of Cities, the Florida Nurserymen, Growers and Landscape Association, Florida Recreation and Park Association, the International Society of Arboriculture/Florida Chapter, the Society of American Foresters as well as various city and municipal foresters. The result is a group of volunteers that collaborate in pursuit of the mission of the Florida Urban Forestry Council...
It is the mission of the Florida Urban Forestry Council (FUFC) to promote the value, enhancement and sound management of urban forests through leadership, collaboration, guidance, and education.